The functions are explained in brief here. Additional details as how to handle them are dealt with in separate topics.
The Major Functions of the PBX service bundle.
To access the PBX service page
1. Click the Services icon of a user either from the detail line or from the top menu. The web page opens displaying the services page.
2. Click the PBX & Call Center

link. The web page refreshes to display the PBX & Call Center services page.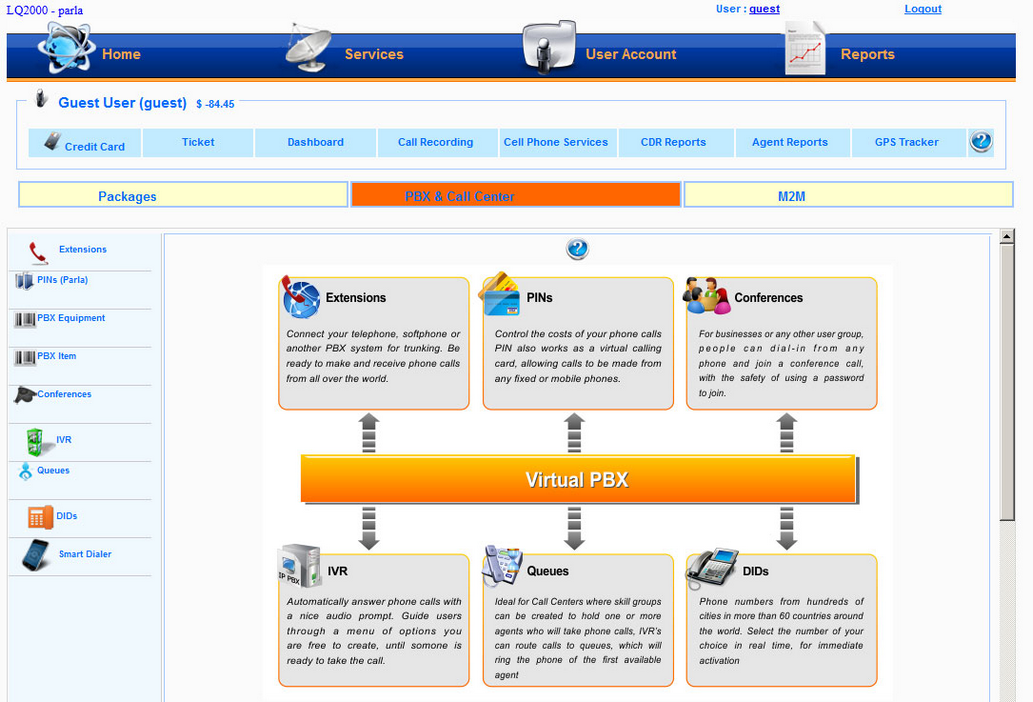 The various functions are:
1.

Extensions - This could either be a physical phone or software that is required to manage and run an extension. An extension is provided to one who makes calls and answers calls. Basically a telephone, softphone or PBX system can be used for trunking and be ready to receive and make phone calls from and to any part of the world.
Note: All calls will cost based on the location to where the call is made. A red card is maintained that maintains call/minute prices to destinations.
2.

Pre-Paid phone services - Here Pre Paid phone services are managed. Things like managing phone cards and checking credit for calls etc., are managed.
3.

and

PBX Equipment and PBX Item - These are inventory applications for a phone system or call center location and help with managing what is being used for each equipment.
4.

Conferencing - This functionality helps arranging multi-party tele-conferences of up to 30 participants. People can dial in and join a conference using just a password.
5.

Interactive Voice Response - With this feature you can set auto messages and provide menus to callers. An example will be a system that responds to users mentioning "Press 1 for Sales, Press 2 for Technical Support and Press 3 for the Company Directory". IVR also does auto redirection to queues and tells users waiting for with messages such as "You are 5'th in the queue. Your call will be attended to in approximately 3 minutes".
6.

Queues - This is where call agents are configured to wait in queue to take calls. The number of agents to be waiting in the queue etc., are configured and maintained here.
7.

DID - Here is where public numbers are maintained to facilitate others to call in to 60 countries and over 100 states.
8.

Smart Dialer - Manage outbound calls with ease using the smart dialer. This prevents manual dialing. All one needs to do is feed numbers into the smart dialer for calling. For example if 100 numbers were to be called and if 10 agents are on standby to take calls,smart dialer calls the first 10 numbers and directs the call to each of the 10 salesmen in succession. When an agent has completed a call smart dialer will promptly make the 11'th call and connect it to that available salesman. It does this process repeatedly till all the 100 numbers are called.
Special Numbers for agents
Scroll the PBX page for taking a look at the special numbers agents and supervisors/managers can use for various functions.
For example,
* 3 - Used when the agent wants to take a lunch break. He or she is then disconnected from the queue.
* 4 - Used when agent has returned from the break and wants to be connected back to the queue to take calls.
* 6 - Used to log on to the system.
* 6 - Used to log out from the system.
* 7 - Used by a supervisor to monitor a call in progress. Before actually connecting to the conversation the system prompts for the extension number.